First and foremost, I need to say that this is the best salad dressing I have ever had! I wish that I could take ownership of this recipe as I make it all the time and LOVE the taste of it. Finding a good salad dressing is very hard for me being vegan. I am usually stuck to the normal olive oil dressings or a vegan Thousand Island dressing. This one however lights my taste-buds up. I don't mean this as in heat, but in flavor. I hope that you enjoy it as much as I do. I found the original recipe and adapted it from allrecipes.com, here.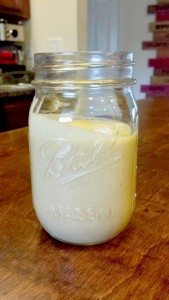 Ingredients:
1 carrot chopped
1 cup Vegenaise
1/2 Tbs. ground ginger
2 Tbs. Tamari Sauce
2 Tbs. white sugar
Method:
1) Put all ingredients into a food processor and blend until smooth. I usually let mine go for 2-3 minutes.
2) Refridgerate until cool.