Since my husband is a huge fan of breakfast for supper, I often have to find a replacement for items he chooses to make. Yes, he does cook….breakfast. This particular night, he wanted to have french toast. I have never made that vegan before and was in need of a recipe very quickly. I searched the internet and found one at love and lemons 
blog
. This blog is awesome for those of us who eat vegan. I will be exploring it more. Here is her recipe for French toast that I have adapted. I hope you enjoy.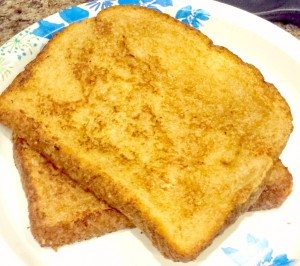 Ingredients

:
6-8 slices Gluten Free Bread
1 cup Rice Milk with 1 tsp. Vanilla
1 Tbs maple syrup (plus more, for serving)
2 Tbs millet flour (or any flour)
1 Tbs nutritional yeast
1 tsp. cinnamon
small bit of freshly ground nutmeg
tiny pinch of salt
coconut oil, for the pan
Method:
1) Whisk together the milk, maple syrup, flour, nutritional yeast, cinnamon, nutmeg and salt.
2) Place bread in a shallow dish (with sides) that holds all of the bread. Pour the mixture over the bread, flipping it around to coat thoroughly.
3) Heat coconut oil in a large skillet over medium-high heat. When the pan is hot, place the bread slices and cook for a few minutes per side, until golden brown.
4) Serve with a dab of vegan butter, maple syrup & fresh fruit.