Have you ever had one of those nights where you don't want anything else to eat except breakfast? Well, we had one of those nights and I am guessing there will be more of those in the near future. It was my night to cook a recipe from the Pioneer Woman and I wasn't in the mood to really cook, but this is a project that I will not quit on. So what easy breakfast recipe could I make? The girls jumped in with a resounding PANCAKES! These girls would eat pancakes and waffles for breakfast every day if they could.
So I set out on my mission to make vegan sour cream pancakes. Ree's original recipe, found here, can be made with all the full dairy and gluten that will satisfy you until your heart is content. However, my family wouldn't be able to stomach the original recipe at all. I changed the full dairy sour cream and butter to a vegan sour cream and butter. For the eggs, I used ground flaxseed with a mixture of warm water and vanilla.
The pancakes turned out amazing. At first I was expecting them to be fluffy like buttermilk pancakes, but I found that in her recipe that the pancakes were to be on the soft side. With this in mind, I was fine with them being thinner. One thing I overlooked was the serving size. In her original recipe, it says that it serves two. It was definately enough for two people, but not a family of four. Fortunately I added some scrambled tofu and fruit to the side to enjoy with the pancakes. My recipe below is also for two people, so if you plan to make this for your family, you may want to double it.
I had a lot of fun with this recipe and I hope that you experience the same love for this as I had.
Let's Eat.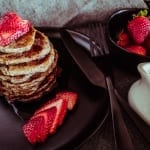 Print Recipe
Vegan Sour Cream Pancakes
A quick breakfast recipe the whole family is sure to love. These pancakes are thin and melt in your mouth as you are eating them. You won't want to stop eating them.
Ingredients
1

cup

Tofutti Sour Cream

7

Tbs

Gluten free flour

I used Bob's Red Mill 1 to 1 Baking flour

2

Tbs

Sugar

1

tsp

Baking Soda

1/2

tsp

Salt

2

Flax Eggs

1 Tbs + 3Tbs Water = 1 Egg ( Let sit for about 5 Minutes)

1/2

tsp

Vanilla Extract

Earth Balance Butter

For Frying and Serving

Syrup and Fruit
Instructions
In a small bowl, mix vanilla, flaxseed meal with water and set aside.

In another small bowl, stir flour, sugar, baking soda, and salt.

In a medium bowl, fold the sour cream in with the dry ingredients. Don't overmix. Just until it is combined.

Gently stir the flax/vanilla egg mixture in.

In a pan over medium-low heat, melt some butter in a pan.

Drop batter by 1/4 cup into the pan and let cook until bubbles start to form on the surface. Flip pancake and cook for another minute. They should be lightly brown on both sides.

These pancakes are thin pancakes. Serve with butter and syrup.
Notes
On the lighter side, spray your pan with oil to prevent sticking.