When it is rainy, cold, windy, or dreary, my family loves soup. Soup has a way of seeping into the crevices of your body and warming you from head to toe. With the transition between winter and spring, the weather is unpredictable. Recently we have been having more dreary days than sunny, so the girls wanted to remake a soup from The Pioneer Woman.
We looked on her website and found a recipe for her Creamy Roasted Red Pepper Soup, which you can find the original here. At first, I was a little afraid that my daughter wouldn't be a fan. She does not like red peppers or any peppers for that matter. When we talked about it, she was very determined to give it a try. So that is exactly what we did.
There were many things we had to change in order to accommodate for our dietary needs, but in the end, it was amazing and so worth the change. One of the main changes I have been making in The Pioneer Woman's recipes is the heavy cream. In other vegan recipes, you will find that the substitute for heavy cream is full fat coconut milk. I, unfortunately, have bad reactions to coconut, so you won't find me using it very often. Instead, I found that Oatly Oat milk is creamy and they even have a "whole milk" version of it. I am going to try that in the recipes soon.
In addition to the soup, the girls made rolled up gluten-free and vegan grilled cheese. It's super easy to make, flatten your bread with a rolling pin and roll up a piece of cheese inside. Brush the outer layer with vegan butter and put on the grill pan. The trick is to find a vegan cheese that will melt. It didn't melt as much as we wanted, but they were really hungry and wanted to eat it before it had the full time to melt.
For those that are low fodmap, this soup recipe is made for you to enjoy, however, it was not tested by Monash University. Be sure the ingredients meet your dietary needs. Oat milk is a high fodmap in 3/4 cup per serving and higher, but I try to use the lower amounts pers serving so that it won't cause a problem with our family. Again use what works for you. If that is coconut milk, please give it a try.
Overall, this recipe is super creamy and definitely a win for the comfort factor. Best of all, my daughter loved it and ate two bowls in one sitting. A must try if you or your family loves soup.
Let's Eat!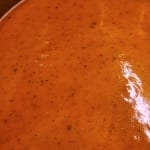 Print Recipe
Creamy Roasted Red Pepper and Potato Soup
A creamy soup, full of roasted red peppers and potatoes. A soup to fill and warm your tummy.
Ingredients
2

Tbs

garlic infused oil

or olive oil

2

Tbs

Earth Balance Butter

1

tsp

oregano, ground

1

tsp

basil, ground

4

sm-med

potatoes, peeled and chopped

2

jars

Roasted Red Peppers, drained and sliced

2

Tbs

tomato paste

2

Tbs

apple cider vinegar

4

cups

vegetable stock

I used a low fodmap stock from FODY

1/2

cup

Oat milk

I used Oatly, original

2

cups

Almond milk, unsweetened

1

tsp

black pepper

4

spring onions, green parts only

top soup with onions
Instructions
In a large soup pot or stock pot, over medium heat, add oil and butter and let it melt together.

Add potatoes, roasted red peppers, and spices and stir. Cook for about 3-5 minutes.

Stir in the tomato paste and cook for 2 more minutes. Sprinkle in black pepper and turn up the heat to medium-high.

Pour in the apple cider vinegar and then pour in the stock. Bring the mixture to a gentle boil, then reduce to a simmer until potatoes are done, about 20 minutes.

Use an immersion blender to puree the soup or let it cool and you can use a blender to puree the soup.

Add the milks and stir until combined. Top with diced green onions and serve.
Notes
For those that are Low Fodmap. This recipe has not been tested by Monash University. View the ingredients and be sure to use what is best for your dietary needs.