Have you ever had one of those mornings where you wake up and you want a specialty breakfast that warms your belly and brings delight to your tastebuds? Yep, me too. For quite some time now, I have wanted to try making a quiche. It brings me back to my childhood, as most food does.
When I was a little girl, my mama would take me out to a restaurant that served spinach quiche. Oh my! It was so amazing. I loved the textures and the warm goodness as each bite dissolved into my mouth. 10 plus years later, I would become vegan and I have never had a slice of quiche since then.
I woke in the morning with this childhood memory and wanted to recreate that feeling and share it with my own family. How on earth do I make a quiche that tastes amazing? How does The Pioneer Woman make hers? I quickly ran over to her website to find that she indeed had one (her original here) but it was filled with ingredients that would not agree with our family's dietary restrictions. Hopping to it, I started doing a little research on what I could do to make mine vegan, gluten-free and enjoyable.
After perusing different recipes from different vegan cooks, (one inspiration from here), I finally got the idea of how to make one and decided to create one on my own. I knew this was going to be either really good or really bad, 50/50 chance, right? This recipe takes a little effort, but a simple effort. Once it was finished it looked great. But anything can look great and not taste good. So it was sent off to my husband, the family food judge. He has a full dairy and gluten palate, so if it passes him, it's good enough for me.
When I place the slice of quiche in front of Mike, he prefaced the taste testing with, "you know I really like quiche", and then dug in. Talk about making a girl nervous. He tasted and then went back for more. Ok, phew, safe. His review came back, it had the texture of quiche and that it was good. We passed. So, I bring to you the Broccoli Spinach Cheese Quiche recipe. Since this is more of a brunch or lunch recipe, try pairing it with a bowl of tomato soup. Yum.
Let's Eat!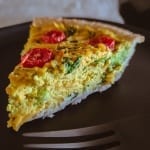 Print Recipe
Broccoli Spinach Cheese Quiche
Vegan and gluten-free quiche with a taste of comfort. This is a great brunch or lunch quiche to pair with a bowl of tomato soup.
Ingredients
1

8-in

pie crust, gluten-free and vegan

1

pkg

tofu, super firm

I used Wildwood brand.

1

tsp

turmeric

1

tsp

salt

more to desired taste

1

tsp

Adobo seasoning

1

Tbs

gluten-free flour

I used one to one baking flour

1

cup

vegan cheddar cheese

I used Good Planet, cheddar

1

Tbs

non-dairy milk

I used Oatly

1

Tbs

garlic oil, infused

1/2

cup

cooked broccoli

1/2

cup

baby spinach, cut

1

spring onion

1

grape tomato

for topping
Instructions
Preheat oven to 375 degrees.

Break up the tofu and add it to a food processor along with the seasonings, non-dairy milk, and gluten-free flour.

Process until the mixture is smooth, about 2 minutes. It will be very thick, but if it isn't spreadable you will need to add some more milk 1 Tbs. at a time. Into a spreadable consistency.

Place mixture into medium mixing bowl and set aside.

Add garlic oil to a skillet over a medium heat setting. Add spring onion and broccoli. Sauté for 3-5 minutes until softened and lightly browned. 

Add spinach and cook until it is just wilted, about 1-3 minutes. Add salt and pepper to taste.

Pour sauted veggies into tofu mixture and gently stir in.

Scrape mixture out of bowl and place into the vegan and gluten-free pie crust.

Slice grape tomato and top quiche. Lightly press tomatoes down into the mixture.

Place quiche into oven and bake for 30 minutes, until the it is firmed up and lightly golden.

Once baked, place on a cooling rack and let sit for 10 minutes before serving.
Notes
This recipe is not low-fodmap.