I will admit, I was never one to enjoy mushrooms of any kind. It was the texture that got me the most. I also witnessed my boyfriend (husband, now) get food poisoning from a mushroom. After that experience, I never wanted to touch one again. Well, I out grew my hate for mushrooms phase a couple years ago. Yep, it took me over 13 years to try these babies again. But I found out that mushrooms actually are so good for my body that I am missing out on optimal nutrients and antioxidants that can keep me healthy. There has even been a studies done to show that by eating mushrooms it fights free radicals in the body, that can lead to heart disease, cancer, and Alzheimer's disease. So, why not try to eat a little a day.
So, by starting with a half teaspoon, I would add it to my taco salad and fried rice. I gradually over time started trying out different mushrooms and now have found that I love baby portobello mushrooms. I try to buy them as fresh as I can, wipe them with a towel to clean them, and slice or dice them for a dish. When buying them fresh they are still quite firm and when cooked don't get as slimy.
The recipe that I am blogging is inspired from someone I follow on Instagram, _harrietemily. She posted a picture of her open faced sandwich and thought that would be a great idea to see if I could re-create it. So this is my version of her sandwich.
The mushrooms are braised in Earth Balance butter and seasoned with a spicy bite. I layered on a piece of toasted vegan/GF bread starting with avocado, steamed spinach and topped with the mushrooms.
Enjoy.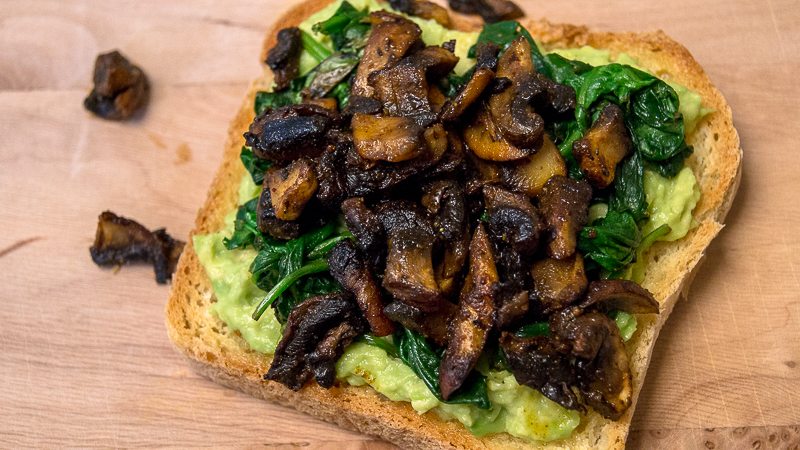 In medium to large pan add Earth Balance butter, mushrooms, and seasonings. Let mushrooms cook down in the butter and seasonings. Stiring often to avoid burning.

Once mushrooms are softened and browned, remove from pan into a side dish. Set aside.

Place spinach into pan and add water. Let the spinach cook down with the water until wilted. While spinach cooks down, place bread in toaster.

Take 1/2 avocado, mash, add desired salt to taste. Spread onto toast.

Next add wilted spinach and then top with braised spicy mushrooms. Enjoy.