Have you ever had veggie bacon? My family used to buy the frozen vegetarian ones until we became vegan and gluten free. Since I have become a more healthy vegan, I figured I would make my own. However, time passed and I never got around to it until now. Being on a gut health recovery program, it is hard to find fun and tasty options to eat. I wanted something that could spice up my breakfasts and burgers that had more of a crunchy texture. This recipe I found was perfect for it. I found this original recipe on
The Edgy Veg
. I happened to have rice paper in my pantry and saw this recipe through Pinterest. Even though it does take time to make, it is so worth it. These strips of goodness, may not taste like bacon, but make a great meatless substitute. They are perfect for sandwiches, dips, food decorations, breakfast…. etc. I can't wait to make these more and add a little more recipes with using these. I had to make a few adjustments to make them a little more nutritious with more fitting for our dietary needs. My recipe has No soy, No gluten, No sugar. They still turned out amazing and will be added to our family's favorites for sure. My husband (a flexatarian), and kids were surprised at how great these tasted. I had to cut them off before they ate them all! Be sure to check this recipe out below and let me know what you think. Enjoy!
GET YOUR RECIPE HERE!
Thanks for trying the meatless bacon! Here is a BBQ recipe that would be great to pair with it. Enjoy!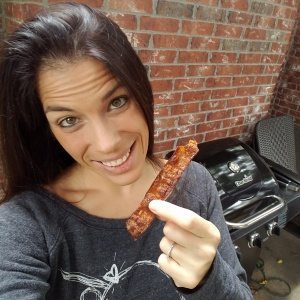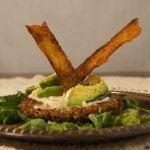 Print Recipe
Meatless Bacon Strips
This is a great meatless bacon. It is crispy and has amazing flavor.
Ingredients
10

Rice paper sheets

2

Tbs.

coconut oil

2

Tbs.

Nutritional Yeast

3

Tbs.

Coconut Aminos

See notes

1/2

tsp.

smoked paprika

1/4

tsp.

black pepper
Instructions
Preheat oven to 400 degrees. Place parchment paper on two baking sheets, for later.

Place 2 sheets of rice paper back to back and cut them into strips of equal size. Use kitchen scissors, it helps to prevent breaking of rice sheets.

In a small bowl mix ingredients except rice paper. In a second small bowl, fill with water.

Take two rice paper strips of equal size and brush each one, front and back, with water. Place strips together they should stick together.

Brush marinade on front and back of strip and lay it on baking sheet. Repeat until all strips are ready.

Bake for 6-7 minutes. Keep an eye on them as they can burn very easily.

Leftovers will store in fridge for a few weeks.
Notes
I purchased my Coconut Aminos from
Amazon
, as I could not find it in my local health food store.